BIOGRAPHY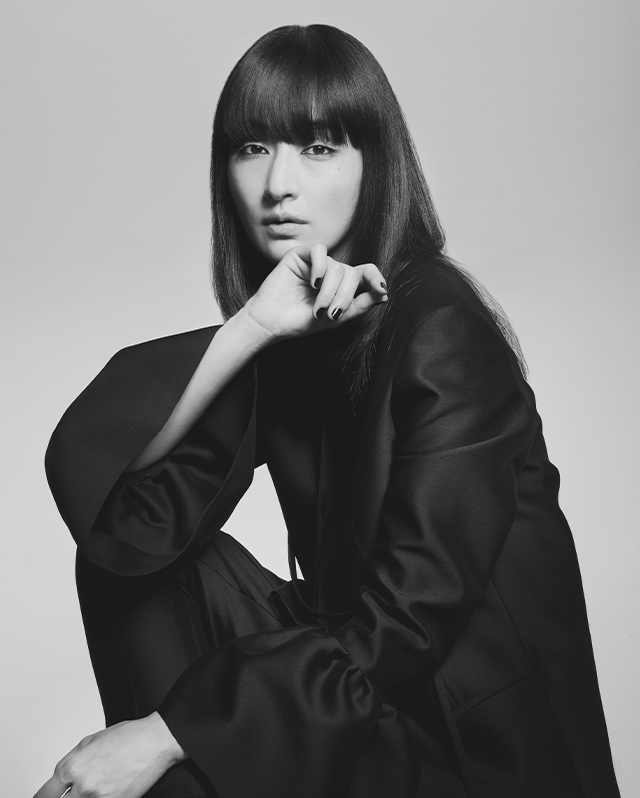 SHISHIDO KAVKA
シシド・カフカ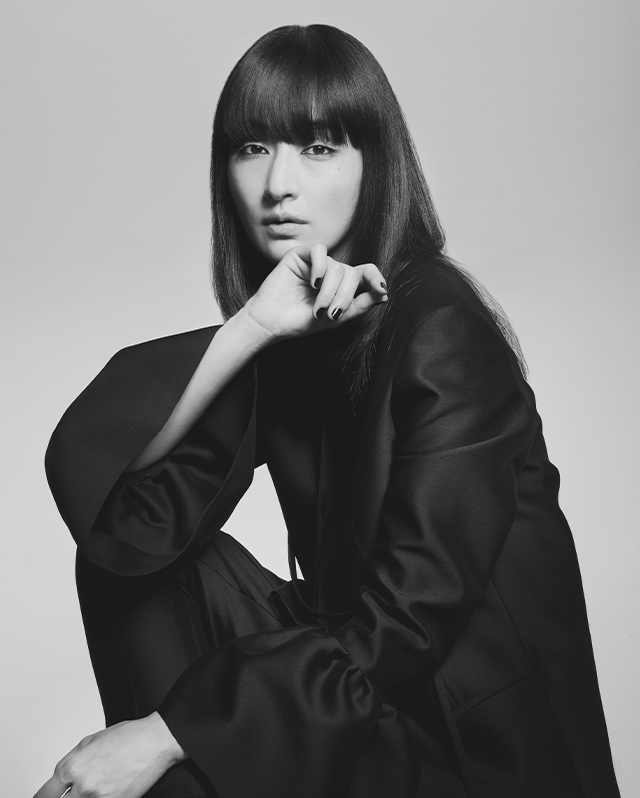 メキシコ生まれ。ドラムヴォーカルのスタイルで2012年「愛する覚悟」でCDデビュー。2013年にファーストアルバム『カフカナイズ』を発売。以降セッション・ミニアルバムを含む4枚のアルバムをリリース。
また、女優として2017年NHK連続テレビ小説「ひよっこ」に出演し一気に話題となり、2020年にはNHKドラマ10「ハムラアキラ〜世界で最も不運な探偵〜」にて主演も務めた。
最近では、NHK BS―Pで放送されている「巨樹の国にっぽん」シリーズをはじめ、ドキュメンタリー映画や番組でのナレーションも務めるなど、多方面で活躍中。
2018年にはアルゼンチンに留学してハンドサインを学び、同年より100種類以上のハンド・サインを出しながら即興演奏でリズムを奏でてセッションしていくリズム・イベント「el tempo(エル・テンポ)」をディレクションしており、パラリンピックの閉会式に出演したことでも話題となった。
●主なワンマンLIVE
2012年9月19日 1st Single リリースLIVE「愛する覚悟」@渋谷O-EAST
2103年9月  ワンマンライブ 東名阪ツアー
2014年2月 「我が儘」リリース東名阪仙ツアー
2015年6月 「K⁵(Kの累乗)」リリース記念LIVE@TSUTAYA O-WEST
2015年9月  ワンマンライブ「ミディアム・レア」@ZeppTOKYO
2016年5月・6月 シシド・カフカTour2016 開催
2016年10月-11月 Theatre Kavka 『DO_S』 東名阪ツアー
2017年3月 「DO_S」リリースイベント @clubasia
2017年12月 「そうだ!ライブやろう」ツアー 東名阪ツアー
2018年7月 「DOUBLE TONE」リリース記念-リメンバー-ライブ@マイナビBLITZ赤坂
2022年9月 10周年記念LIVE「¡Fiesta!」@代官山UNIT
※その他、サマソニ・ROCK IN JAPANなど、フェス・イベントに多数出演
●ドラマ・映画
2014年 フジテレビ 連続ドラマ「ファーストクラス」 川島ナミ絵役
2015年  映画「Zアイランド」 
2016年  映画「TOO YOUNG TO DIE! 若くして死ぬ」
2017年 NHK連続テレビ小説「ひよっこ」 久坂早苗役
2017年 TBS 連続ドラマ「カンナさーん!」草壁真里役
2017年 日本テレビ 連続ドラマ「視覚探偵 日暮旅人」 増子すみれ役
2019年 TBS 連続ドラマ「わたし、定時で帰ります。」 三谷佳菜子役
2020年 NHKドラマ10「ハムラアキラ〜世界で最も不運な探偵〜」葉村晶役 ※初主演
2021年 日本テレビ 連続ドラマ「レッドアイズ 監視捜査班」 湊川由美子役
2021年 Huluオリジナルドラマ「レッドアイズ 監視捜査班 The First Mission」
2021年 テレビ朝日 金曜ナイトドラマ「漂着者」 古市琴音役 ※3〜5話
●ラジオ
ニッポン放送「オールナイトニッポン0(ZERO)」 2013年4月〜2014年3月
J-WAVE「YEBISU BEER BEGINNINGS ~LIVE FROM TAKANAWA GATEWAY 〜」2020年4月〜9月
bayfm 「土曜の夜にはカラスが鳴く」2013年〜 
●ナレーション
NHK BSプレミアム「巨樹百景 神様の木に会う」
Eテレ「ハートネットTV」
NHK 8K「ゲルニカ〜ピカソ世紀の傑作はこうして生まれた〜」 
NHK BSプレミアム『巨樹の国にっぽん』
WOWOWオリジナルドキュメンタリー番組
「東京スカパラダイスオーケストラ TOKYO SKA STORY 2021 ~Together Again!!!!!~」
ドキュメンタリー映画「分子の音色 A scientist and a musician」
テレビ東京「新・美の巨人たち」
●CM出演
江崎グリコ「PRETZ」TVCM
SONY 「WALKMAN®/ヘッドホン」TVCM
フリマアプリ「Fril」TVCM
Levis®グローバルキャンペーン「Live In Levis®」TVCM
ヴィダルサスーン ヘアアイロンTVCM
オハヨー乳業 ロイテリ ヨーグルトTVCM
アサヒ飲料「ウィルキンソン タンサン 『With Food編』」TVCM
●広告出演
ルミネ新宿2013秋冬キャンペーン / 2013年
ユニクロ UT Picker / 2016年
CITIZEN Light in BLACK Blue Edition / 2016年
POLA 「BAセラム レブアップ」 / 2016年
Dyson 「Dyson Supersonic ヘアードライヤー」 / 2017年
株式会社タツミプランニング / 2017年
SK-Ⅱ 「#期限なんてない」キャンペーン / 2018年
サッポロ生ビール黒ラベル「STA READER」/2021年
●現在のレギュラー番組
▪︎フジテレビNEXT「TOKYO SESSION –ROCKIN'GAMBLER–」(不定期放送)
「TOKYO SESSION」
▪︎bayfm「土曜の夜にはカラスが鳴く」土曜24時~
「土曜の夜にはカラスが鳴く」
Born in Mexico. Debuted on CD in 2012 with "Love Preparedness" in the style of drum vocals. Released the first album "Kavkanize" in 2013. Since then he has released four albums, including a session mini-album.
She also starred in the NHK drama 10 "Hamra Akira-The World's Most Unlucky Detective" in 2020, when she appeared as an actress in the 2017 NHK TV series "Hiyokko". ..
Recently, she has been active in various fields, including the "Giant Tree Country Nippon" series broadcast on NHK BS-P, as well as narrating in documentary films and programs.
In 2018, he went to Argentina to study hand signs, and from the same year, he held a rhythm event "el tempo" where he improvised and played rhythms while issuing more than 100 types of hand signs. He was directing and was also talked about when he appeared at the closing ceremony of the Paralympics.
● Main one-man LIVE
September 19, 2012 1st Single Release LIVE "Being Prepared to Love" @ Shibuya O-EAST
September 2103 One-man live Higashi-Meihan tour
February 2014 "Myself" released Tomei Hansen Tour
June 2015 "K⁵ (power of K)" release commemoration LIVE @TSUTAYA O-WEST
September 2015 One-man live "Medium Rare" @ZeppTOKYO
May / June 2016 Kavka Shishido Tour 2016 held
October-November 2016 Theater Kavka "DO_S" Higashi-Meihan Tour
March 2017 "DO_S" release event @clubasia
December 2017 "That's right! Let's do a live concert" tour Higashi-Meihan tour
July 2018 "DOUBLE TONE" release commemoration-Remember-Live @ My Navi BLITZ Akasaka
* In addition, he has appeared in many festival events such as Summer Sonic and ROCK IN JAPAN.
● Drama / Movie
2014 Fuji TV serial drama "First Class" as Nami Kawashima
2015 movie "Z Island"
2016 movie "TOO YOUNG TO DIE! Die young"
2017 NHK serial TV novel "Hiyokko" as Sanae Kusaka
2017 TBS serial drama "Kanna San!" As Mari Kusakabe
2017 NTV serial drama "Visual Detective Higurashi Traveler" as Sumire Masuko
2019 TBS serial drama "I will return on time." As Kanako Mitani
2020 NHK drama 10 "Hamra Akira-The most unlucky detective in the world-" as Akira Hamura * First starring
2021 NTV serial drama "Red Eyes Surveillance Investigation Team" as Yumiko Minatogawa
2021 Hulu original drama "Red Eyes Surveillance Investigation Team The First Mission"
2021 TV Asahi Friday Night Drama "The Drifter" as Kotone Furuichi * Episodes 3-5
● Radio
Nippon Broadcasting System "All Night Nippon 0 (ZERO)" April 2013-March 2014
J-WAVE "YEBISU BEER BEGINNINGS ~ LIVE FROM TAKANAWA GATEWAY ~" April-September 2020
bayfm "Crows crow on Saturday night" 2013-
● Narration
NHK BS Premium "Hundred Views of Giant Trees: Meet God's Tree"
E-tele "Heart Net TV"
NHK 8K "Guernica-The masterpiece of the Picasso century was born in this way"
NHK BS Premium "Giant Tree Country Nippon"
WOWOW original documentary program
"Tokyo Ska Paradise Orchestra TOKYO SKA STORY 2021 ~ Together Again !!!!! ~"
Documentary film "A scientist and a musician"
TV TOKYO "new beauty giants"
● CM appearance
Ezaki Glico "PRETZ" TV commercial
SONY "WALKMAN® / Headphones" TV commercial
Flea market app "Fril" TV commercial
Levis® Global Campaign "Live In Levis®" TV commercial
Vidal Sassoon Curling Iron TVCM
Ohayo Dairy Products Reuteri Yogurt TVCM
Asahi Soft Drinks "Wilkinson Tansan" With Food "" TV commercial
● Advertising appearance
LUMINE Shinjuku 2013 Fall / Winter Campaign / 2013
UNIQLO UT Picker / 2016
CITIZEN Light in BLACK Blue Edition / 2016
POLA "BA Serum Rev Up" / 2016
Dyson "Dyson Supersonic Hair Dryer" / 2017
Tatsumi Planning Co., Ltd./2017
SK-II "# No Deadline" Campaign / 2018
● Current regular programs
▪︎ Fuji TV NEXT "TOKYO SESSION-ROCKIN'GAMBLER-" (irregular broadcast)
"TOKYO SESSION"
▪︎bayfm "Crows crow on Saturday night" Saturday 24: 00 ~
"Crows crow on Saturday night"